Economic Development Top Priority For City Council
The following story appeared on the city news
City Council Focuses on Economic Development During Planning Session
Post Date:
01/29/2018 9:00 AM
GREENVILLE, N.C. — The Greenville City Council established economic development as the top priority for the City during a review of goals and priorities at the Council's annual planning session at City Hall. Council members emphasized the proactive recruitment of business and industry and enhanced efforts to help grow existing small businesses while noting that improving infrastructure and arts and entertainment in the city will also aid economic development efforts.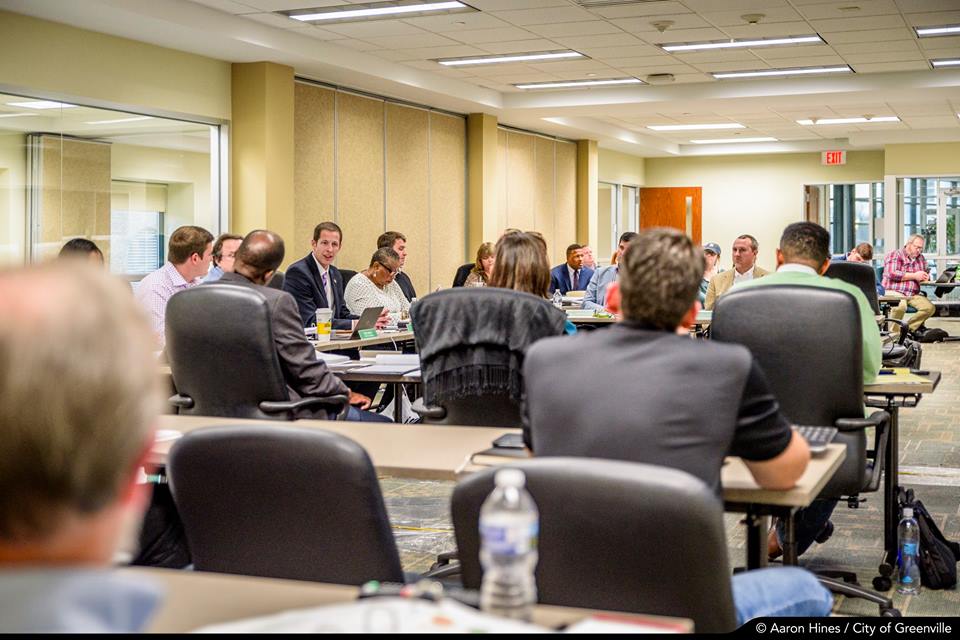 The Council began the planning session on Friday night with a presentation from Dr. Jay Golden, vice chancellor at East Carolina University. Golden highlighted some of the university's upcoming initiatives, including ECU's Rural Prosperity Initiative, while stressing the importance of a regional approach to economic development that includes Greenville and ECU working together to tell its story. Golden also suggested coordination on a Master Plan for the uptown area and partnerships between the City and University on the Imperial-Millenial Campus development and micro-business opportunities for ECU graduates.
Friday night also included an overview of the City's economic development efforts and a review of the Council's previous priorities. City staff reviewed progress made toward completing the action steps associated with each of the previous priorities, noting that four of the 10 priorities were completed.
Saturday offered the Council a chance to review its priorities and compile an updated list. Two of the remaining uncompleted priorities were combined into one priority in the updated list, while two others were also carried over into the new list.The top priorities for the 2018-2020 Strategic Plan were ranked in the following order:
1) Economic Development
2) Infrastructure
3) Arts/Entertainment
4) Cleanliness and beautification
5) A comprehensive approach to stormwater
6) Town Common
7) River Access/Tar River vantage points
8) Lighting - LED
In establishing economic development as its top priority, the Council asked staff to explore seven recommendations included in the Office of Economic Development's presentation on Friday night. The recommendations included exploring building industrial parks, shell buildings and forming formal economic partnerships with the university and county. Also included were changing the focus to industrial companies and financing space for interested companies, extending the outdoor dining policy to areas like Dickinson Avenue, creating a job-creation grant, streamlining the permitting process and implementing recommendations of a parking study to be presented to the City Council in February.
The Council closed its Saturday session with a review of the mid-year budget report and a look at the City's Capital Improvement Plan projects. Staff noted that some of the information in the CIP presentation would have to be edited based on the new list of priorities.